Posted on Mar 17, 2020 in
Uncategorized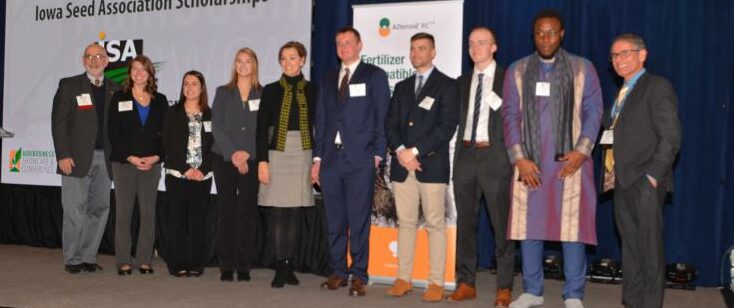 Nine scholarships were given to seven Iowa State University (ISU) College of Agriculture and Life Sciences (CALS) students at the 2020 Iowa Agribusiness Showcase and Conference on February 13, in Des Moines, Iowa.  Five Iowa Seed Association (ISA) Scholarships of $1,000 each were awarded. One of ISA awarded students was selected as the Manjit Misra Outstanding Senior Scholar and received an additional $500 scholarship. The $1,000 Bill Latham Memorial Scholarship and the $1,000 Lisa Shepherd Jenkins Memorial Scholarship were also awarded at the ISA ceremony.    
Bill Latham was a former president of the Iowa Seed Association, the American Seed Trade Association (ASTA), the Independent Professional Seed Association (IPSA), and was a former President of his family company, Latham Seed. Bill passed away in 2015.
This is the fourth year the "Lisa Shepherd Jenkins" Memorial Scholarship was awarded by the ISU Seed Science Center to an undergraduate student engaged in seed science and seed technology. The $1,000 scholarship honors Lisa who served as Seed Health Testing Coordinator for the Seed Science Center and as Director of the Administrative Unit of the National Seed Health System. Lisa headed one of the most active phytosanitary seed testing programs in the country and served as a chair on committees for both the American Seed Trade Association and the American Phytopathological Society. Lisa passed away in 2015.
Louis Burton is from Rogers, Minnesota. His parents are Chad and Lisa Burton. He is a junior in agricultural business. Louis works at the ISU Seed Science Center where he has developed an interest in the seed business. He has completed internships at Domnick Seeds (a Dekalb Asgrow dealership) in western Minnesota, and CHS Co-op, also in western Minnesota. He hopes to work as a sales agronomist after graduation with the opportunity to work with farmers on a day-to-day basis. Louis has been on the dean's list four of the five semesters he has attended Iowa State. He is also a member of the Agricultural Business Club. Burton was also awarded a $1,000 scholarship from Iowa Certified Crop Advisers.
Madeline Frischmeyer is from Reinbeck, Iowa.  Her parents are Chris and Julie Frischmeyer. Madeline is a junior in Agronomy with a Seed Science secondary major. Madeline has spent time working at Pioneer and Heartland and will be doing field-exploration this summer with Syngenta as a corn production intern. Madeline is actively involved in the ISU Farm Operations Club, where she has served as secretary and volunteers to help her fellow students who have special needs.  She has received two academic scholarships based on her GPA of 3.7 or above and has been awarded recognition on the Dean's list. She says she is interested in the field of seed science because she knows it is a field where her education will never stop.
Malcolm St. Cyr is from Washington, DC.  His parents are Donna Tracey and Alioune Badara M'Backe'.  He is a freshman in Agronomy.  Malcolm grew up in Senegal, West Africa in a farming community.  Malcolm worked as a farm laborer for 10 years where he watched the impact that limited food yields have on an entire community.  This experience has fueled his interest in Agronomy.  He says seeds, along with soil are the foundation of agricultural sciences.  He is an APEX Scholar and was selected to attend the Minorities in Agriculture, Natural Resources and Related Sciences Conference last semester.  He is actively involved in several campus organizations and will be presenting at two conferences over the next year.  Malcolm says he is interested in the science applied to seed selection,  breeding, and the seed industry. He hopes to someday help the community he grew up in, as well as assist with solving international and regional food quality, security, and systems problems.  
Haley Stahl is from Marshalltown, Iowa.  Her parents are Jon and Julie Stahl.  She is a junior in Agronomy with a Seed Science secondary major. Haley studies in agronomy strongly emphasize seed science, crop development and funding, and management decisions and considerations within the seed industry.  She has spent a considerable amount of time studying and identifying multiple varieties of seeds and plants, impacts on yield, and the genetics behind producing grain.  She is an active member of the Agronomy Club and has worked as a research assistant and research intern for Beck's Hybrids.  She says these experiences have enabled her to utilize her classroom knowledge in a practical setting.  She also plans to eventually pursue a graduate degree in seed science.  In the future, she hopes to develop new ways to help the seed industry succeed and work to develop seed technologies to help plant breeders create better lines.
---
Brandyn Chapman is the recipient of the Lisa Shepherd Jenkins scholarship. He is from Ames, Iowa. Brandyn previously received his B.S. in agricultural studies and has returned to school to earn another degree in Horticulture. Brandyn started working at the Iowa State University Seed Science Center in the fall of 2012 as a student. Post-graduation in 2015 he served as production management supervisor trainee at Remington Seeds in Hastings Minnesota. After completion of that program, he decided to return to Iowa State University, and eventually to the Seed Science Center where he has been for three years working as a Seed Analyst III. He volunteers his time assisting Dr. Susan Goggi with her Agronomy 338 lab every fall semester. He says hopes to someday be in a student advising position which involves teaching opportunities. Whether it is in the lab, or in the field, or in the classroom, Brandyn has a robust love and passion for plant science.
---
Erin Stichter is the recipient of the Bill Latham Memorial Scholarship. She is from Erie, Illinois and is the daughter of Brandon and Casey Stichter. She is a junior in Agronomy. Erin has interned in seed corn production at Wyffel's Hybrids where she experienced production of seed corn, field operations, bulk seed processing, warehousing, and distribution. She also works in the ISU soybean breeding research lab where she has gained insight on the development of new seed genetics. Erin served as a delegate to the National American Society of Agronomy – Students of Agronomy, Soils and Environmental Sciences conference just this past November where her research, based on assessing the potential for soybean yield improvement through plant architectural modification, achieved second place in the National Darrel S. Metcalfe Journalism Contest. She says this experience is a prime example of the outstanding opportunities Iowa State offers to supplement education and learning in and out of the classroom environment.
---
Eric Heick is this year's recipient of the Manjit Misra Outstanding Senior Award in addition to an Iowa Seed Association scholarship. Eric is from West Branch, Iowa and is a senior in Agronomy.  His parents are Diane and Russell Heick.  Last year he received the Bill Latham Memorial Scholarship. Eric works at the Seed Science Center with Alan Gaul which he says has confirmed his interest in seed conditioning.  He has also interned with Syngenta Parent Seed in Slater where he assisted with planting, standing counts, and detasseling.  He has been on the ISU Dean's list from the fall of 2017 to the fall of 2019, a member of the University Honors program served as secretary of the Ag Markets Club, and a member of the Agronomy Club.  His goal is to graduate debt-free with a double major in agronomy and seed science in just 4 years.  He would like to work in Seed Corn Production and is considering attending graduate school.
Original article from:
https://www.seeds.iastate.edu/news/seven-cals-students-awarded-seed-scholarships