Posted on Mar 3, 2020 in
Uncategorized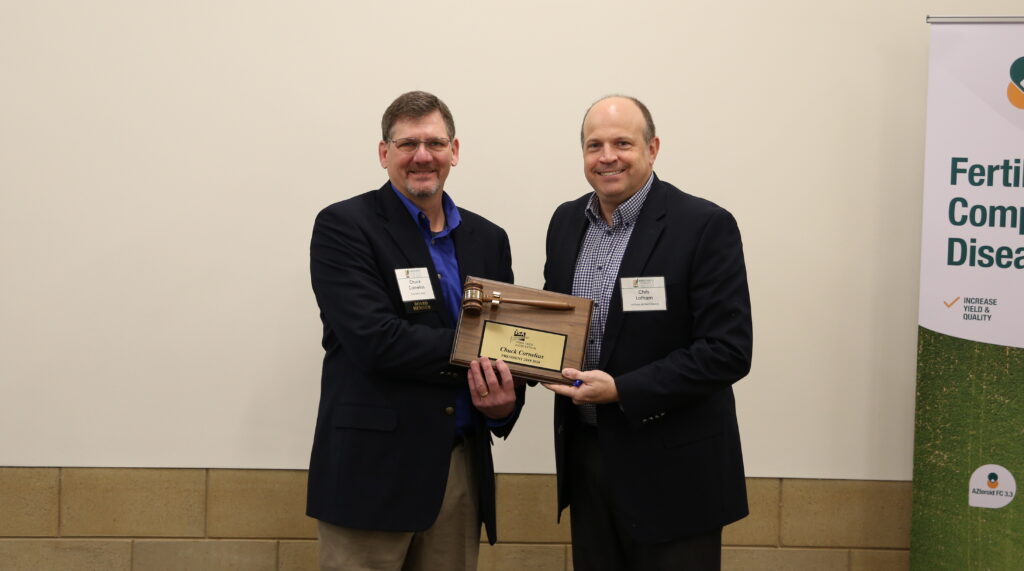 ---
Des Moines, IA – During the Iowa Seed Association (ISA) annual meeting Chris Latham of Latham Hi-Tech Seeds, Alexander, Iowa, was named 2020 ISA Board of Directors President. The annual meeting is held in conjunction with the Agribusiness Showcase and Conference, which is hosted by the Agribusiness Association of Iowa in Des Moines, Iowa.
Latham is currently the Chief Financial Officer of Latham Hi-Tech Seeds. The Latham Seed Company was founded in 1947 in Alexander, Iowa, by his grandparents Willard and Evelyn Latham. After five years of success with Latham Hybrids, LLC, in 2009, Chris and his brother John, along with John's wife Shannon, brought Latham Seed Company and Latham Hybrids, LLC together to make Latham Hi-Tech Seeds.
Latham has served as a board member since 2017 and was nominated to 2nd Vice President by his peers on the board of directors in 2018. The association is pleased to have a strong leadership path for board members to help lead the association into the future. Also rising in the ranks on the board of directors is Randy Ramundt of Bayer CropScience. Ramundt was named 1st Vice President and Adam Anderson of Corteva Agriscience was named 2nd Vice President. 2019 ISA President Chuck Cornelius, Cornelius Seed, will provide leadership on the board for one final year as Past President.
Newly added to the board of directors include Jim Chenhall, Syngenta; Angela Latcham, Corteva Agriscience; and Jeff Steinbeck, Remington Seeds. Each seat on the ISA board of directors serves a three-year term, after which either their term expires, or in any year of their service, the board member can be nominated as an officer and placed into a leadership track to become board president.
Retiring from the board after years of dedicated service to the seed industry are Jim Webster, Pioneer Corteva of Dysart, Jim Anderson, Remington Seeds, LLC of Williams; and Tom Severson, AgVantage FS of Marshalltown.
The full 2020 ISA board of directors include Brooke Achenbach, Syngenta; Jeremiah Andorf, Bayer CropScience; Jim Chenhall, Syngenta; Terry Garner, BASF; Jeff Steinbeck, Remington Seeds; Dr. Manjit Misra, ISU Seed Science Center; ISU Ex-Officio – Dr. Jim Rouse, IA Crop Improvement Association.