Posted on Jun 29, 2015 in
News
,
Scholarships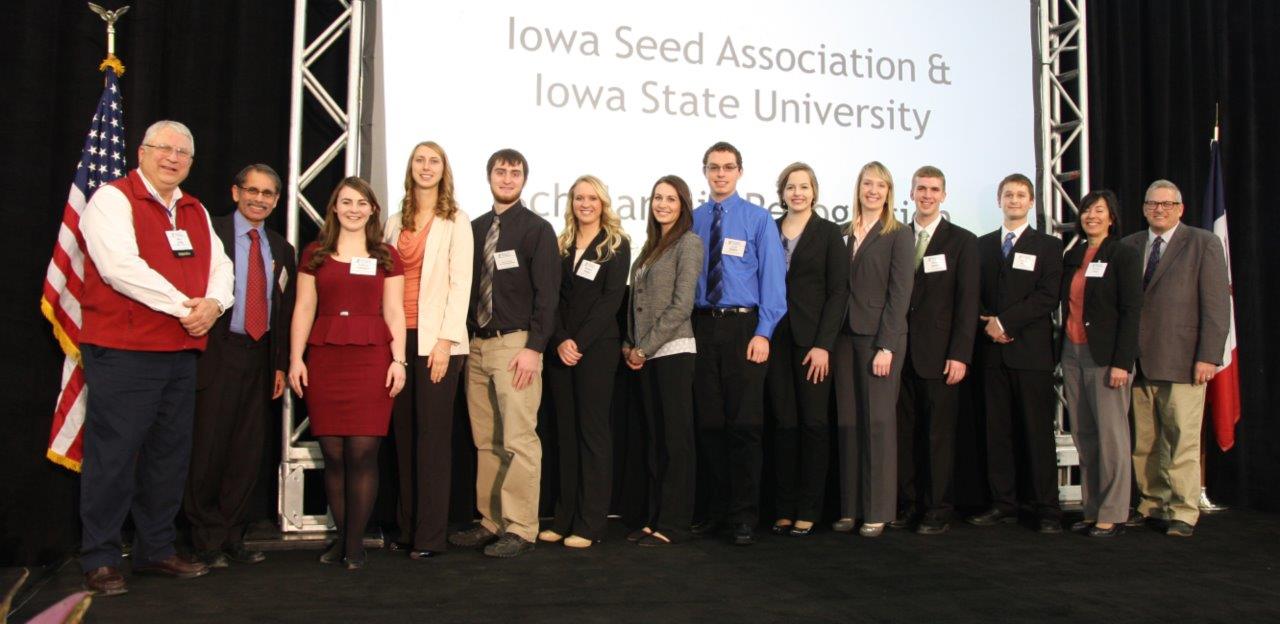 The Iowa Seed Association (ISA) recently awarded eight scholarships of $1,000 to students in the College of Agriculture and Life Sciences at Iowa State University. One student was also selected as the "Manjit K. Misra Outstanding Senior Seed Scholar," receiving a $500 scholarship in addition to the $1,000 scholarship sponsored by the ISA. One student also received an award from the American Seed Trade Association (ASTA).
During the awards ceremony held at the Agribusiness Showcase and Conference on February 11, 2015 at the Varied Industries Building, Susana Goggi, Seed Paysiologist, Dpt of Agronomy, ISU read bios, accomplishments, and goals of each student.
Recipients of the ISA 2014-2015 academic year scholarships are : Jeffery Barnes, Hillary Kletscher, Katharina Wigg, Madison Schulte, Lucas Roberts, Morgan Shrader, and Catherine Leafstedt.

Kathryn Hoemann received the ISA and the Manjit Misra Outstanding Senior Scholarship. Brandon Miller was the ASTA scholarship recipient.
The ISA scholarships are open to students in any major in ISU's College of Agriculture and Life Sciences. Scholarships are awarded on the bases of: academic excellence, leadership skills, interpersonal skills, and most important to the selection committee, a demonstrated interest in a career in the seed industry or seed science.
Also Pictured below are: Iowa Secretary of Agriculture, Bill Northey, far right, Susana Goggi, second from right, Max Smith, AAI Chairman, far left, and Manjit K. Misra, ISA Director, 2nd from left.
Congratulations to all these students!