Dr. Susana Goggi Named 2019 Iowa Seed Association Honorary Member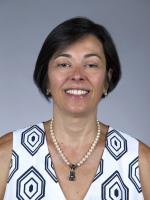 An Iowa State University professor is the recipient of the 2019 Iowa Seed Association (ISA) Honorary Membership Award.  Dr. Susana Goggi, Professor of Agronomy, has dedicated her life to addressing major seed quality issues confronting the seed industry in Iowa and globally.
"Dr. Goggi has demonstrated great dedication to the improvement and support of the Iowa seed industry,"  said Jim Webster, ISA board president. "Her entire career has been focused on delivery of quality seeds and the education of people that conduct the research, produce the seed or sell the seeds that benefit the nation's farmers."
Webster emphasizes Goggi's impact on future seed professionals through her teaching. Dr. Goggi has trained more than 25 Master's degree and Ph.D. students and has taught seed physiology and science to hundreds of undergraduate and graduate students in class.
"The influence she has on our young people through her Seed Science and Technology class will ensure the seed industry is prepared to meet the challenges of feeding a growing population," said Webster.  "She has been a good partner to seed companies providing research and advice on seed quality issues."
Goggi was recognized with the award, during the annual Seed Forum hosted by the Iowa Seed Association (ISA). The association annually partners with the Agribusiness Showcase and Conference in Des Moines to provide attending members with a wider range of learning and networking opportunities. The recipient of this award has been chosen every year since 1949, by the outgoing ISA board president.
"Over the years I have been impressed at the caliber of the recipients of this award," Goggi said. "I am humbled, and at the same time ecstatic, to be recognized among these giants of the seed industry."
Annually, Goggi leads an ISA committee with the selection process of scholarships which are awarded to Iowa State University students at the conference.  This year ten ISU students interested in pursuing seed science studies received scholarships.
"She recognizes the importance of quality seed as the foundational component in agriculture and has served with purpose, both directly and indirectly, to support the success of the seed industry and America's farmers," said Webster. "The Iowa Seed Association is honored to recognize her service."